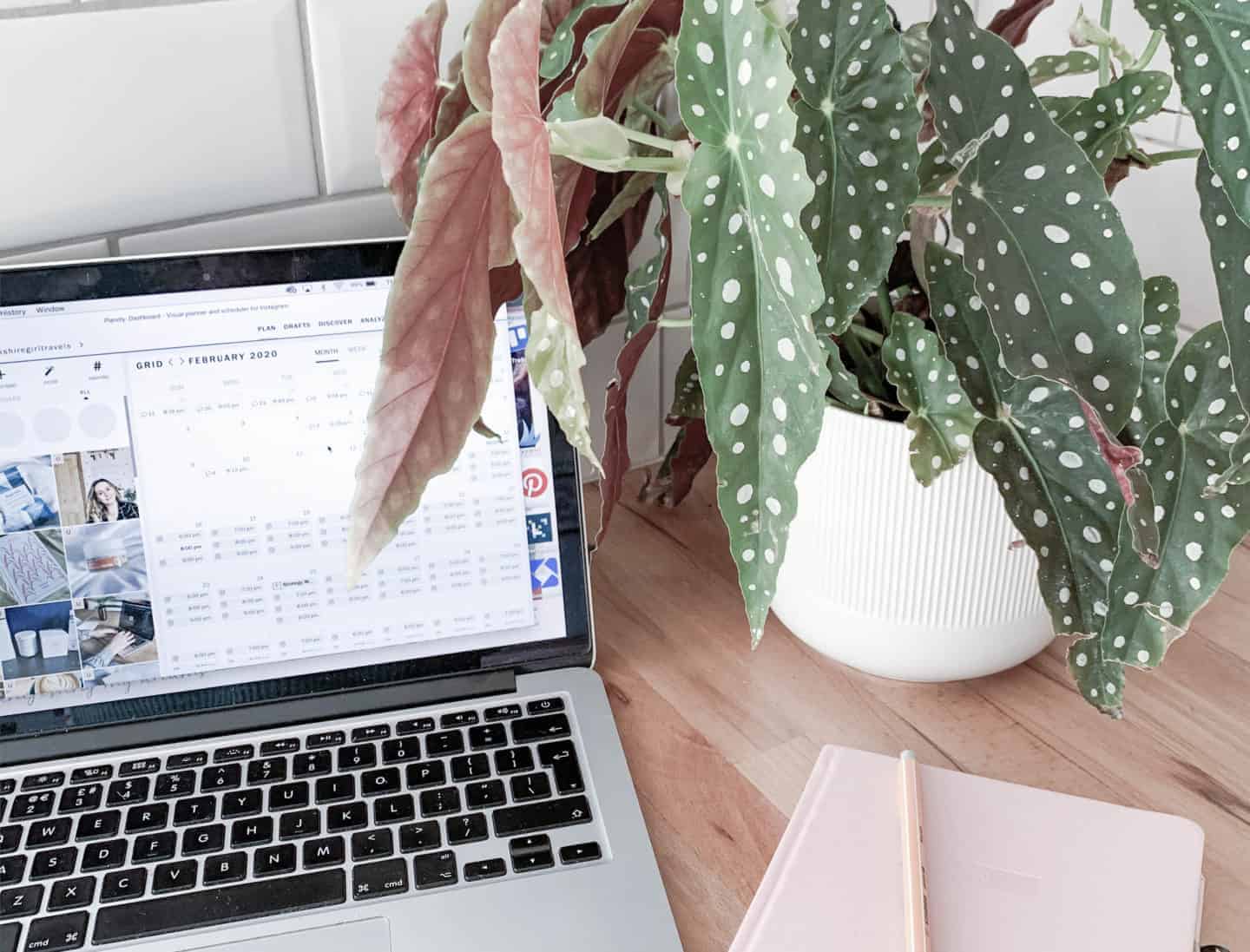 Okay, this is an easy answer – yes. But how you are scheduling your online content and your approach to scheduling it is super important.
A lot of us schedule content because we are time poor and don't want to spend lots of time writing captions in the moment. We like to have a consistent approach and do this all in one go can help with that.
When should you not schedule content?
I've heard a lot of people talking about not scheduling content recently because they want to react in the moment. They want to be intuitive and to respond to what's going on. I agree with this approach.
I do think, however, that you will need to schedule in time to make your content live. Otherwise, if you're anything like me, you will get to the end of the day and realise you haven't done that Instagram post. Then it's rushed not quite right doesn't fit with your general style and isn't very successful.
What online content should you be scheduling?
I would schedule blog posts, social media posts, Pinterest pins, newsletters and sales emails. To do all these things you need to have a master plan.
I'd recommend working in 12-week chunks deciding on your content for the quarter, using a content creation strategy to help you. I write blog posts about this last month which I've linked here…
This will lead you to a cohesive message across your brand. So blog posts link to your social media, which links to your Pinterest, which links to your email marketing etc.
This will not only save you time but will give you a solid reliable look as a brand, which will create and build trust.
This is a radical approach but you will find if you move to a bigger content plan it will save you time and it will feel more cohesive. Having a solid strategy in place makes everything better.
What tools should I use?
Always use a partner where possible. A service that is recommended by the platform. Partners are authorised by the platform meaning that your posts won't be penalised in terms of reach and engagement.
Instagram
Planoly & Later are Instagram partners. Find them here…
Pinterest
Planoly & Tailwind are Pinterest Partners. Find them here…
Facebook & Instagram
The inbuilt creator studio is great for both Facebook & Instagram and as its an in house scheduling tool you know you will get favourable algorithm privileges.
Find it here…
How I do This in My business
I create a 12-week plan for the quarter and then I sit down and schedule all the blog posts that I'm going to write for that quarter. Then I align those tasks into my working weeks.
Mondays & Tuesdays I tend to use as content days. When I'm working with clients I will create their content on these days then or I'll create my own.
I do bulk content creation, sitting and writing four blog posts in a row. I will then bulk edit, bulk schedule and start creating smaller pieces of content from this, e.g. pins and Instagram posts.
This approach does make it so much easier in the long run. I recommend getting into this habit for your business, it will streamline everything and make it all feel cohesive.
If you got any questions drop me a message or email, I'd love to talk.