SEO And Website Conversions – How To Get More Customers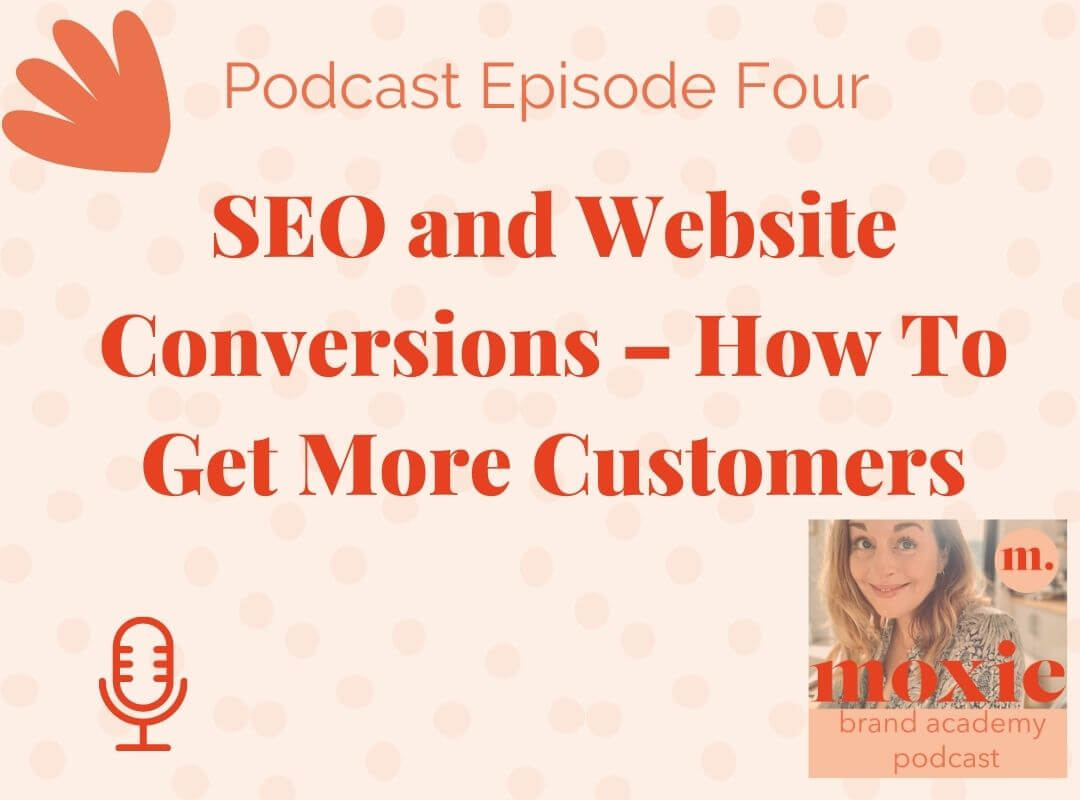 Hello, welcome to this week's episode we're going to talk about improving your SEO, maximising your conversions on your website and ultimately getting more customers, so get your favourite drink and let's get into it.
We all know that SEO is a biggie when it comes to getting more traffic to your site.  I'm a huge believer in SEO but if your customer gets there and can't navigate your site properly, they will probably leave. So, getting them there is important but what they see, experience and feel when they are there is also important.
This week I'm going to give you my top SEO tips and talk about the customer journey.
So, SEO takes a while to really kick in. You can feel like you are slogging away on a monthly basis and seeing not a lot of movement. But eventually It will pay off.
I'm going to start with the technical stuff first, get it out of the way.
Time of URL ownership
Some people say that it's only after the first year that you will see your domain authority increase. Domain authority is like a trust score and along with page authority is used to rank your site by Google. This can be easily found on Moz and other websites.
Page Speed has a major effect on your SEO score. If you have a slow site the bots and your customers will go elsewhere to look for a better website. Pingdom is a great way to check your site and offers ideas on what to improve.
Checking the performance on Google Developer Tools will help you to find out what is slowing your site down, I've produced a guide on how to use this, which I've linked in the show notes.
Get Quality backlinks. Backlinks can make or break your sites domain authority. I have had a site loose authority due to spammy backlinks. Sites can anchor to your website and get a link for their poor site to your better site. You can check who is linking to your site via Google Search Console and Moz. Just as important is quality backlinks. You can pay and agency to get these for you or you can write articles/blog posts for higher domain authority sites. Makes sure you get a do follow link not a no follow link – this is super important. Do follow tells Google your site is linked to the better ranking one and no follow obviously doesn't. There are lots of link swapping Facebook groups as well as groups where you can pitch to write posts.  
Use sitemaps, a bit technical but there are lots of easy to follow guides on how to do this. Use Google Search Console to help you do this
Think about how you can stand out as an authority in your field, the topics you write about, keywords you use, and most popular pages will all show google who you are. Think about what you are saying about yourself and if that makes you stand out as knowledgeable and as an expert in your area.
Keep your site up to date. Out of date plugins can actually allow hackers to get into your site, I've seen it happen. The other reason is compatibility, if your site gets outdated it stops working with some software which can slow it down and in the worst-case scenario mean the only solution is a complete rebuild.
I'd highly recommend having a monthly system to check the technical stuff and update your site I tend to do this when I'm checking my analytics an stats for the month. There's a monthly audit guide over on the blog that I'll link in the show notes.
On to the content side of things.
Updating your site on a regular basis is a key indicator to Google that your website is current, which is the reason for writing blog posts. One a week is enough to show that your site is not stale and has relevance in your field.
Keywords
Using keywords throughout your site is a big one. I would recommend designing your website with keywords in mind. Use a keyword search website and design a keyword strategy for your business. Do this by focussing on the services/products you offer and find longtail keywords that are searched regularly but are not competitive. The sweet spot is searched over 100 times a month and not competitive. My advice for finding these would be to add your location to a few, so digital marketing services Nottingham is a high-ranking key word for my business.
Use a keyword per webpage and try use the following strategy add it to
The meta description
The alt tag in the images
An h2 heading
The page title
The URL
And distribute it naturally through the text, ideally having it in the first paragraph. You are looking for at least two examples through the passage, but I have had things rank with just one example, it's all about how it's written. This keyword advice is the same for each blogpost
Customer Journey
Planning a journey that your website visitor takes is one of the most important factors in turning them into a potential customer. To start this process, you first need to understand who your ideal customer is. This way you can try to think like them, understand what they might want to see and how they might navigate your website.
Next you want to look at who is coming to your website. Look at your Google analytics or other analytic services for apps and platforms. Workout, their gender, location, times they visit (business hours or not), which platform they have come from and where are they landing. There are some amazing software services that can help you to find this out by installing an extension on your site. With this you can them actually watch your visitors clicks and navigation process, its mind-blowing. Hotjar is one I've used and loved.
The last step is thinking about the action you want them to take. Do you want them to sign up to your mailing list, buy a product or get in touch for a quote?
With this information I'd recommend plotting each potential journey for example…
Visitor comes from Pinterest to look at a free resource – where do you want them to go next?
An ideal customer comes from Instagram, what information might they be looking for and so on.
This will help you to convert visitors into customers and keep your customers happy.
That was a big one this week, so the takeaway is threefold this week
Do a monthly site update and health check – there's a post on the blog on how to do this.
Have a Keyword strategy for your website
Design/audit your website with your customer journey in mind
I hope you found that useful, if you want to chat some more get in touch, my details are in the show notes, I'm here to help.
Thank you so much for listening to the moxie brand academy podcast 
If you want more head over to moxieva.co.uk/blog, where you'll find guides and downloads and if you want to continue the conversation head over to @moxieva on Instagram.
Listen to the podcast episode here