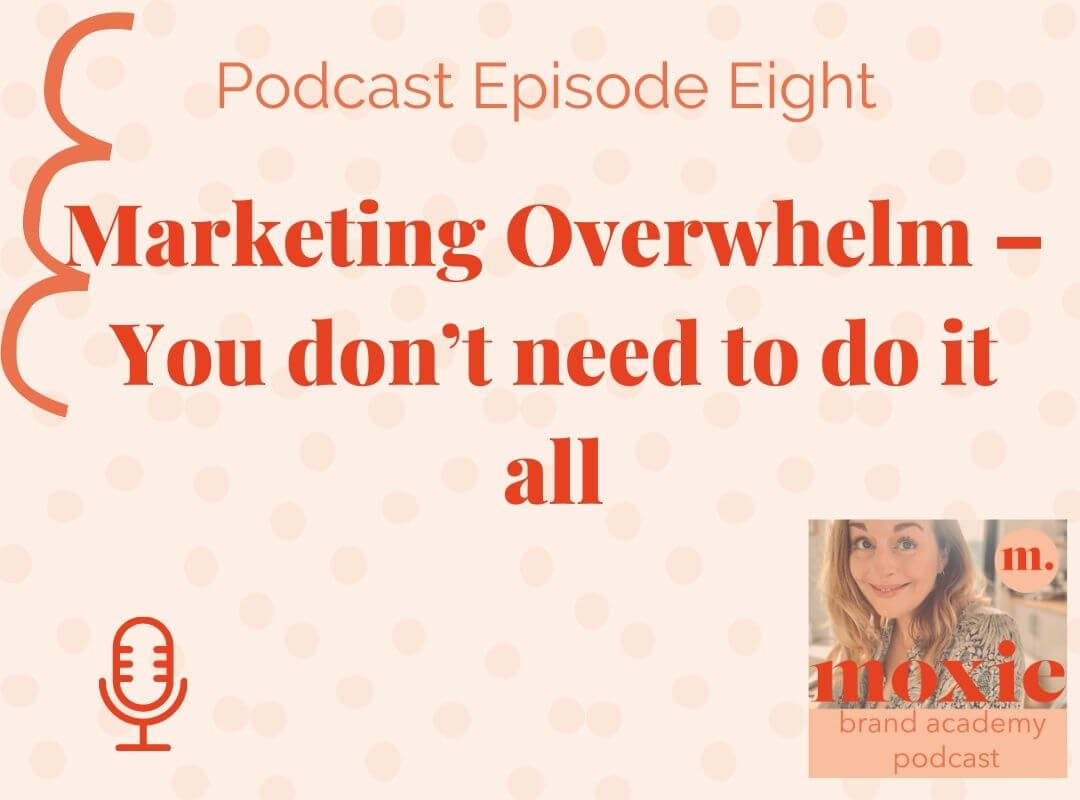 Hello, welcome to this week's episode all about being overwhelmed with your marketing I'm going to talk about how to choose what you stick with and what to drop, so grab your favourite drink and let's get into it.
We're all working hard, trying to navigate lots of platforms, and feel like we should be doing more. I don't know about you, but when TikToc became popular I panicked and thought I should be on there too.
Cue me trying to think of ideas of videos and coming up with nothing. There are lots of great marketing and tutorial style videos on there, but it just wasn't me or right for my brand. So, I decided not to use it and in doing that I realised I didn't have to do all the things all the time.
This created a shift in my whole thinking. That streamlining my marketing, working smarter not harder was the key to success without the stress of feeling overwhelmed.
I started to approach my marketing in terms of different categories. My thinking behind this being that some people love reading, some people love audio and other people are more visual.
My categories are audio, visual and long-form content. This way I am attempting to cater to all audiences and streamlining my approach, giving me more time back and stopping me from feeling overwhelmed. I repurpose content so it works in all the categories. The result, I'm actually creating more content but, in a lot, less time and with clear goals in sight.
I'm going to chat through my approach to these categories and will then move on to what examples you can make for your business.
I use content categories and a bulk creation strategy to streamline everything down.
It all starts with planning in quarterly blocks. I use my content pillars to come up with all the content for the month. I've spoken about this extensively on the blog and in previous podcast episodes. I list 4/5 ideas per content pillar, thinking of ideas that will work for all the categories.  
I then plot this out and work out which category I'm going to put my main focus into and on which week. I then decide what content to make within that category and I have a loose plan for the quarter. This all takes around an hour and trust me saves hours of procrastinating.
When it comes to creating the content I also do this in blocks, recording audio and video in blocks to save time. Setting up for recording video, getting in the right frame of mind can take a lot of time, so doing this in blocks of time is the way to be productive. I take the same approach to long-form content too, bulk writing blog posts then editing closer to the scheduled date.
This approach saves time, it gives you a clear idea of what you are creating and means you can plan things like an IGTV series if you want to. Then choose not to produce video on other platforms to save time. Or you can choose to create two videos for different platforms at the same time, cutting the amount of work down.
So onto talking about examples you can use in your business
Audio
Podcasts, these are a great way to communicate with your audience. The subscription nature of them means people are given notifications when a new episode is live, prompting them to go listen.
You can decide how to structure them so that they don't take up too much time and you don't have to create an episode every week.
Audio clips
You can create an image and then add audio to it for Instagram. This would be classed as a video, but it could be a way to use audio in your business.
ALT text
As a side note if you fill in the alt text on website pictures and describe your IG pictures in your captions people who use a screen reader will be able to hear the description and visualise the image. This is a good way to make your brand inclusive.
Visual
Video can be used on YouTube, Facebook Instagram, Pinterest, Twitter, LinkedIn and TikTok. So if you're not using video in some way you are probably missing out.
The key here though is to not to feel like you need to create video content every week or for every platform, it's about finding what works best for you and incorporating it in your overall strategy. You might want to create YouTube content every week, as this is your major platform but what I'm saying is really think about what works for your business and plan to include it in your marketing within the quarter.
Posts
Posts on all social media are a visual form of content. My advice with this is…
Find out which platform you get the most engagement on
Use a strategy to post and stick to it, it doesn't have to be every day!
Use a scheduler so you can plan in advance
Use the platform intentionally, go there to engage and chat to others in blocks of time then leave
Pinterest
This is a great add on marketing tool. So use this in conjunction with other content. This is the perfect buddy to a blog post, YouTube video or Podcast episode, promoting so it gets better reach and engagement.
Long-form
Ok so I've been writing blogs for 10 years, I know that's crazy and maybe shows my age! Common wisdom is blogs are not as popular as they were but blogs are not just about getting readers. Blogs are about getting enough content and increasing the number of words on your site so that Google has enough information to rank you higher for SEO.
Words matter when it comes to the posts too. Minimum of 300 words, aim for over 600 and research shows anything over a 1000 is good in terms of SEO. Now I don't suggest you always write 1000 or more, who has time for that? But make sure you write a few longer posts within your blogging schedule.
Blogs can also act as lead magnets when used with Pinterest or other marketing methods.
Newsletters
These can be created by sharing content you have already made and repurposing sentences. I find writing my newsletter takes little time as I use the things I've been working on that week to write it.
IG captions
Long-form IG captions have become a way to differentiate your account. Using them as mini-blogs can be a great way to get your message across. These can be adapted from blog posts or podcast scripts/transcripts.
So there are the ideas. The best thing to do is to think about the various methods and pick ones that complement each other. Think about how you can write one thing and use it in lots of different formats.
The way I do this is to write my blog post/ podcast script and then within a day I record the videos or write other content, whilst the information is fresh.
The takeaway this week is to
Don't feel like you should be doing all the things, all the time (I know I said that last week, but I really believe it)
Choose platforms that are right for your business, don't do anything because you think you should.
Think about your content in quarterly blocks
Batch create it
Use your major content to inform the rest
I hope you found that useful, if you want to chat some more get in touch, my details are in the show notes, I'm here to help.
Listen to the podcast episode here